Chamber elects new President and Davis backs Humber business prospects in or out of Europe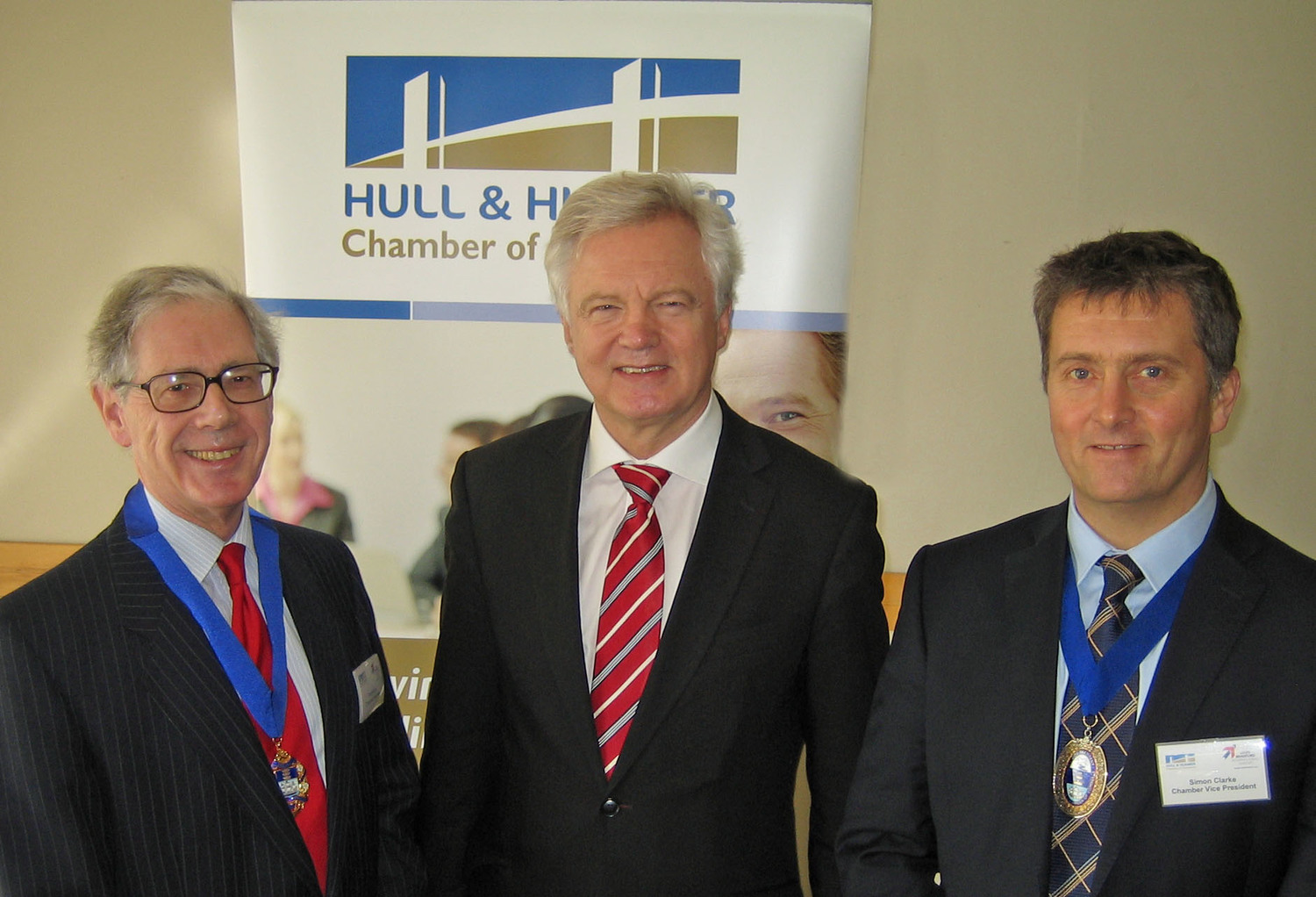 Pictured at the Chamber's AGM are (from left) Tim Durkin, David Davis and Simon Clarke.

THE Hull & Humber Chamber of Commerce today welcomed Tim Durkin as its 177th president. Mr Durkin is a Senior Partner of Myer Wolff Solicitors, Hull, is also a Director of the Hull Incorporated Law Society and a former Chairman of the national charity MIND. He takes over the presidency from BP Chemicals' communications manager Dr Malcolm Joslin.
The Chamber's new Vice President is Simon Clarke, a senior Business Director at Young's Seafoods Ltd, in Grimsby.
Commenting on his new role at the Chamber, Mr Durkin said: "My theme for the year is to put the emphasis on the word "Humber" as it's really important that all the businesses realise the Chamber's services cover the whole area and our views are aimed at reflecting the key business interests on both banks of the river".
The Rt Hon David Davis MP, the guest speaker at the Chamber's AGM lunch was keen to highlight that in or out of Europe after a 2017 referendum the Humber business community's growth prospects were strong going forward.
While he reiterated his own reservations to land-based wind turbines, he also indicated a positive commitment to offshore wind and that Siemens' whilst "playing hard ball with Whitehall" in their negotiations, would come to the city.
Mr Davis also joined the Chamber in opposing the latest Brussels directive on European port regulations which would damage the competitiveness of both the Humber and UK ports in general. The Member of Parliament for Howden and Haltemprice similarly talked optimistically of a positive decision soon from Government on rail electrification to Hull following the cross-Party, all stakeholder delegation which went to London to lobby the Secretary of State for Transport recently.