Chamber Annual Dinner raises £1,107 for Teenage Cancer Trust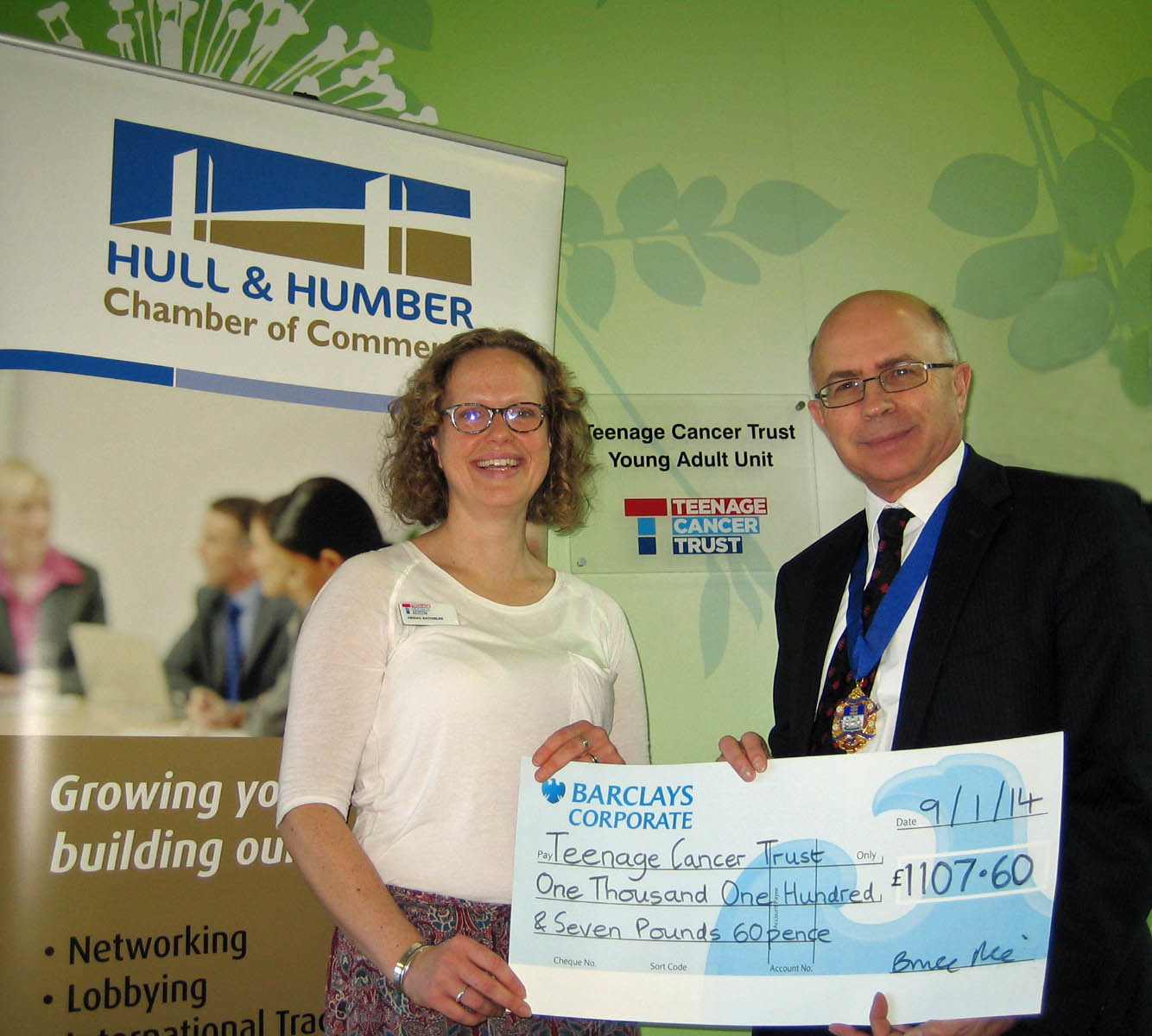 Dr Joslin presents a cheque for £1,107.60 to Abby Batchelor at the Teenage Cancer Trust's specialist unit at Castle Hill Hospital, Cottingham.
The Charity was the beneficiary of the Chamber's Annual Dinner, which was held at the Willerby Manor Hotel. Abby explained to guests the work the charity does and talked about its new facilities at Castle Hill.
Abby said: "Teenage Cancer Trust is extremely grateful for this wonderful support as we rely on donations to fund all of our vital work. The money raised will go towards the maintenance of the Teenage Cancer Trust unit at Castle Hill, as well as fund specialist staff and support the work of the charity's free cancer awareness sessions in schools, colleges and universities across Yorkshire and the Humber".
Teenage Cancer Trust is the only UK charity dedicated to improving the quality of life and chances of survival for the seven young people aged between 13 and 24 who are diagnosed with cancer every day. The charity funds and builds specialist units in NHS hospitals and provides dedicated staff, bringing young people together so they can be treated by teenage cancer experts in the best place for them. The charity wants every young person with cancer to have access to this specialist support, no matter where they live.
Traditionally treated alongside children or elderly patients at the end of their lives, young people can feel extremely isolated and some may never meet another young person with cancer. The charity believes that being treated alongside others their own age can make a huge difference to their whole experience.
In the Humber region, at Castle Hill Hospital, the charity opened its very first Shared Care unit in December 2011 which works in partnership with the Teenage Cancer Trust unit at St James's Hospital in Leeds. This means young people from our region who have been diagnosed with cancer now have dedicated services on their doorstep. The unit has four beds, all with en-suite facilities, a day room with music area, a recreational area and outdoor space.
Teenage Cancer Trust also educates young people and health professionals about cancer to ensure a swift diagnosis and referral to specialist support. Cancer in young people is rare, but the charity wants teenagers to recognise the common signs and symptoms so they can seek medical advice if they are worried.
The Teenage Cancer Trust's website features lots of information and advice for people living with the disease.
Teenagers know their own bodies the best, but if they are worried they might have a problem they should talk to a parent or get medical help as soon as they can. Cancer in young people is very rare and it could be that the signs people are experiencing are due to an ordinary every-day illness.
The five most common signs of cancer in young people are:
Pain

Lump, bump or swelling

Extreme weight loss

Extreme tiredness

Changes in a mole
The guest speaker at the dinner was the Executive Chairman of the KCOM Group, Bill Halbert, who gave a revealing insight into the ups and downs of the world of telecoms.
The North East Lincolnshire-born businessman quoted several statistics demonstrating just how quickly technology has moved on in recent years, with 80% of households now being connected to broadband, with the figure for mobile devices higher still.
He said that by 2015, there will be 25-billion connected devices around the world and by 2020 there will be 50-billion. Companies like Walmart, which owns Asda, completes 17,000 online transactions every minute, and since 2009, humans have generated more data than they had in the last 5,000 years!
All this is in stark contrast to 1980, when there were no mobile phones, no Google and no internet as we know it today.
The evening was sponsored by BP, Leeds Bradford International Airport, Stafforce Apprenticeship Academy, Youngs Seafood and Saville Audio Visual.
For more information about Teenage Cancer Trust, visit the website www.teenagecancertrust.org or telephone 020 7612 0370.