Chamber and GCW join forces to make history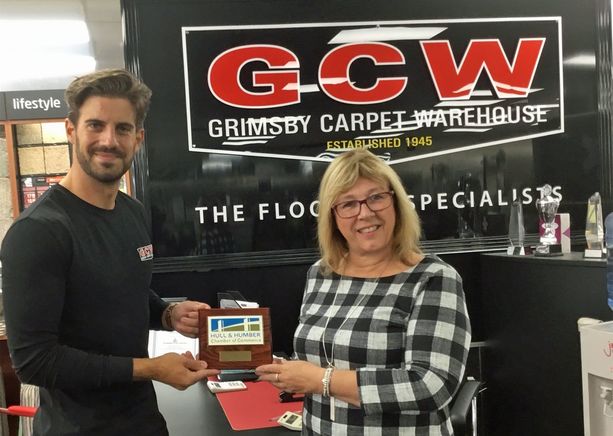 GRIMSBY Carpet Warehouse (GCW) has made history by becoming the first business to advertise on the Hull & Humber Chamber of Commerce's new website.
The Grimsby business which was founded in 1945 and is now run by Managing Director Myles Shaw and his brothers from their Freeman Street premises, also became Chamber Patrons as part of the deal which saw them take a banner advert on the Chamber's website.
Myles was presented with GCW's Patrons Plaque by the Chamber's Northern Lincolnshire Manager Anne Tate.
The Chamber's External Affairs Manager, David Hooper, said: "It has been an absolute pleasure to work with Myles and his team on this project. GCW is an ambitious, forward-thinking Grimsby business which is going places and is opening up new markets as far afield as America, so we were thrilled that Myles agreed to be part of this Chamber "first" with the banner advert."
Myles said: "I am an enthusiastic Chamber member and sit on the Chamber's North East Lincolnshire Council, so I was very pleased to work with Anne and David on this new development which I hope will benefit both businesses.
"I was delighted to receive my engraved Patrons Plaque and we will give it pride of place. Our business has grown rapidly in the last few years and our Carpet Runners arm is also doing very well. We are looking to expand what we do into the Hull and East Yorkshire area, so this was a great opportunity to let people know that we are here.
"We can see from our website's analytics that we are already getting plenty of interest from across the Chamber region, so I am very pleased with the results so far".
The Chamber's Northern Lincolnshire Manager, Anne Tate, said: "Myles and his team are a real asset to the Chamber and I was delighted when they won the Forrester Boyd Business of Excellence Award at the Northern Lincolnshire Business Awards in May. It was well deserved and I look forward to continuing our excellent relationship".
David added: "Of course we hope it will be first of many adverts on the Chamber's website and if any other businesses are interested in advertising with the Chamber, then please give me a call on (01482) 324976.