Celebrating the best of Northern Lincolnshire businesses with a Right Royal Do!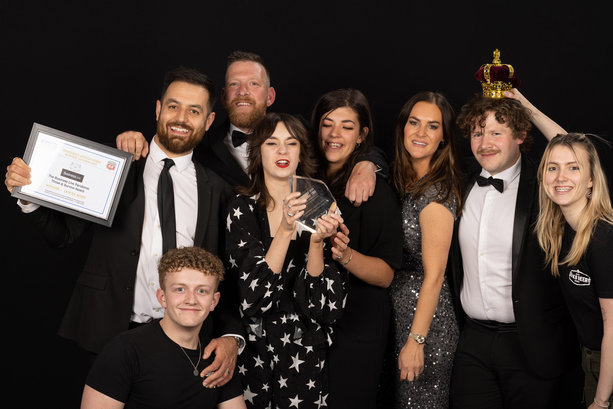 MORE than 400 people gathered at Grimsby Auditorium to celebrate the best of local business and commerce in Northern Lincolnshire. Coming so close to the Platinum Jubilee a royal themed evening was an obvious choice and what a popular choice it turned out to be.
Following a delicious Dinner served by the Lincolnshire Chef, guests were treated to an After Dinner Show featuring professional performers from the West End of London and our local home grown talent in performing arts students from Grimsby Institute. The show featured the songs of 'Queen' – the rock band – and finished with a rousing Last Night of the Proms finale. This saw guests take to their feet and involved lots of enthusiastic flag waving and singing.
And then of course it was on to the reason everyone had attended, to see who would be the fourteen winners of the 2022 Northern Lincolnshire Business Awards. Before The Awards presentations started with a speech from Guest of Honour, Shevaun Haviland, Director General of the British Chambers of Commerce. She spoke of the challenges facing business and how membership of a local Chamber could bring benefits.
Shevaun also highlighted how the Chamber's Economic Surveys influence fiscal policymaking and her regular meetings with Government Ministers made sure that local businesses had their voices heard at the highest levels of Government during her regular meetings with Chancellor Rishi Sunak and other senior Ministers.
She also presented a special Award from the Chamber to Phillips 66 for their ground breaking work on green energy fuel, now being used by British Airways. Mike Hailes of Phillips 66, who also acted as headline sponsors of the event, picked up this very special trophy on behalf of the company.
Then it was on to the Awards to find out who would be this year's winners. In each category there was one outright winner and two equal runners up. Community and Pandemic Business Survival Awards were the most subscribed to this year – I don't think we need to ask why. The ultimate accolade of the night, the Forrester Boyd Business of Excellence Award, went to Paul Barker and JemBuild, a remarkable local success story.
The Chamber would like to say a huge 'thank you' to all involved in the evening – sponsors and suppliers alike. We'd also like to say a huge congratulations to all our 2022 winners.
For more information on the Chamber please contact Anne Tate at a.tate@hull-humber-chamber.co.uk