Bridlington & Yorkshire Coast Business Awards 2018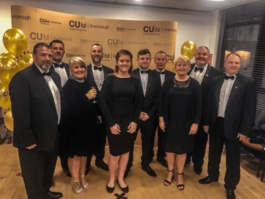 BRIDLINGTON CYP were very proud and delighted to be the main benefactor of Chamber Bridlington and Yorkshire Coast Business Awards. £4066 was raised on the evening due to the generosity of guests.
Joining them for the evening was Stuart and Joanne Brown of AAC Ltd, who share the passion and vision for providing sport and recreation for people of all backgrounds.
Also attending was Emily Asquith along with her mum who last Tuesday did the club and whole town so proud when she was crowned the new Junior European Boxing Champion in Anapa, Russia. By Thursday she was back at school and training.
We are also joined by members of our club committee. Andy Potts, Dean Hoggard, Lee Wilkinson, Ryan Melles, Dave McDougall and Damien Grant who work tirelessly to provide the opportunity that we do.
CYP is a charity based in Bridlington that offers a variety of activities for young and old from all different backgrounds, regardless of financial circumstances. We charge as little as 50p just to make individuals active
We are always looking for businesses and individuals to help and support our club if that is you please get in touch at dave@bridlingtoncyp.org