Brexit Secretary meets Chamber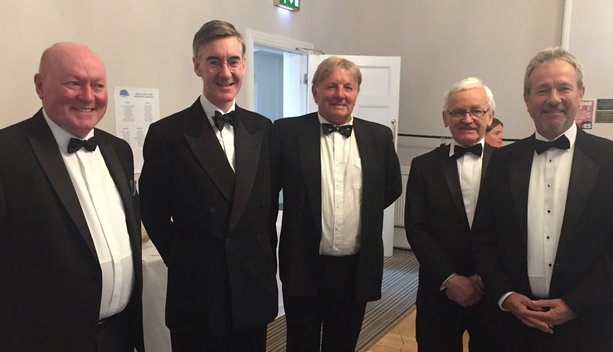 JACOB Rees-Mogg, the Secretary of State for Brexit met Chamber leaders on Thursday 30 June to discuss how Brexit was working and what the Government's plans are to deregulate and de couple the UK economy further from the EU as part of the Government's own "Global Britain" agenda.
As part of a visit to Grimsby organised by the Minister's close colleague, Martin Vickers MP, the Chamber joined the leading Brexiteer for a private meeting prior to an enjoyable dinner at Healing Manor.
Whilst showcasing the area's progress from the UK's dirtiest cluster of industry towards a rapidly progressing exemplar of green energy, Chamber leaders did flag up that more flexibility on accessing Eastern European immigration would be helpful currently, especially in the local farming, construction, oil and gas and arguably the hospitality sector too.
The Chamber's recent meeting with the Governor of the Bank of England was referenced as Darren Cunningham, Head of Phillips 66 in the UK and Europe, also highlighted the Energy Crisis and Ukraine war and its likely local impact.
As the short term prospects of a cost of living crisis grows, depending on how long the Ukraine War goes on, the Chamber was also keen to hear about Mr Rees-Mogg's longer term plans to access the UK's finance institutions more easily to drive greater UK investment in the local renewable energy supply chain.
The Chamber's Vice President Albert Weatherill focused on shipping and global supply chains with examples about China in particular as he briefed the Minister, along with a general discussion around the table about the need to rebalance UK Aid spending to best effect.
Chamber President Mike Whitehead thanked Mr Rees-Mogg for meeting with the Humber's business leaders "as we all seek to reboot the area's economy after the difficulties of two years of pandemic and now the war in Ukraine".