Big welcome as first of Hull Trains' new £60m Paragon fleet arrives in city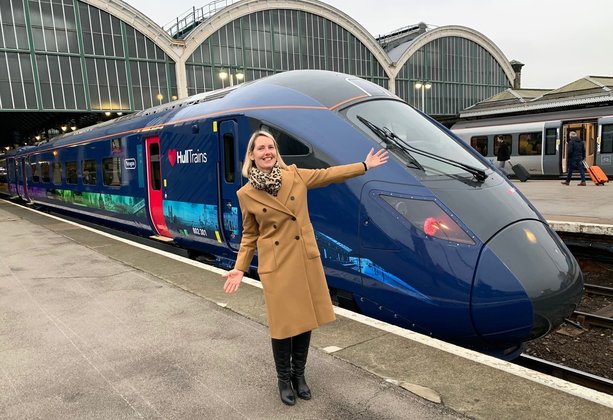 HULL Trains today welcomed the first of its brand new Paragon fleet of Azuma trains into Hull's station from which the £60-million fleet takes its name.
Welcomed by a round of applause as the shiny new train pulled into the station, the new Hitachi fleet heralds "New Beginnings" for the train company the Chamber helped to win its original open access franchise for Hull.
The bi-mode trains are able to run on diesel or electric and with smart new interiors, more leg room, USB chargers and wi-fi, the faster, cleaner and greener trains will begin whisking passengers between Hull and London in the next week or two, with the rest of Hull Trains' new fleet coming into service by the end of the year.
Managing Director Louise Cheeseman paid tribute to her staff who have worked tirelessly to bring the new trains into service, having helped choose not only the name of the new fleet, but also the navy blue colour and the interior fixtures and furnishings, including the seat materials and designs.
Complementing the pink heart on the Hull Trains' logo, the doors are also a matching shade, and graphics along the sides of the carriages show images from the towns and cities along the route.
Louise said: "The new Paragon fleet of trains, as well as promising fast, reliable journeys, will also promote the city of Hull to a wider audience, boosting business and tourism in East Yorkshire".