Apprentice success stories highlight opportunities in engineering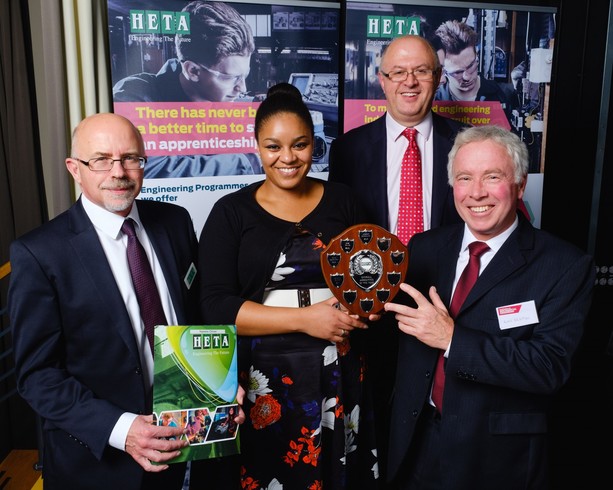 THE past, present and future of engineering were celebrated as a leading training provider put the spotlight on the success of its young learners.
Officials from the Institution of Mechanical Engineers (IMechE) told of the organisation's work from its foundation 170 years ago to its ongoing support for industry and its efforts to help businesses prepare for the next technological revolution.
Management of Humberside Engineering Training Association (HETA) urged young achievers at its annual Hull awards ceremony to play their part in transforming their profession by improving skills and by increasing the numbers of apprentices – particularly of women in engineering.
Dr Malcolm Joslin, Chair of the HETA Board of Trustees, urged apprentices and their families: "Please tell others about the benefits and the opportunities of apprenticeships. HETA works very hard with schools and colleges throughout the year but it is important that young people get a full picture of what their career options are.
"It you could spread the word about apprenticeships that would be fantastic – and we still need more females. You will be setting the standards in the next few years so please make sure your organisations welcome and support people regardless of gender, ethnicity, sexuality and people who see the world through a different perspective."
Malcolm said HETA's recruitment reflects the national figures which show that less than 16 per cent of undergraduates studying engineering and technology are female, with the figure less than four per cent at apprentice level.
He said: "We encourage females to see engineering is as a great career opportunity for them as it is for males."
Denis Healey, Business Development Manager of the Yorkshire region of IMechE, which was founded in 1847, invited the audience to recall the great engineering achievements of the Victorian era and to consider what the future might hold.
He said: "It really is a great time that we are living in and engineering is a profession that is going places. We have been through unprecedented change in the last 10 years. We have global communication technology at our fingertips and we are on the cusp of seeing driverless cars.
"When you are involved in modern manufacturing it pulls in all sorts of engineering – mechanics, automation, artificial intelligence. The boundaries have changed and it is a really exciting world to be a part of.
"You have an opportunity at HETA to train while you are earning and to be part of a world class organisation. We at IMechE have a responsibility to be evangelistic about engineering because it is a great profession and the rewards are there with some cracking, well-paid jobs."
Iain Elliott, Chief Executive of HETA, praised the award-winners, their families and the employers.
He said: "We have some of the best young people coming through but the Humber region is not alone in needing more engineers. You have got to keep going, got to keep learning, got to keep achieving. Industry won't stop. They need young people to support that process of lifelong learning.
"We need ambassadors, people out there championing engineering, apprenticeships and technical education so please talk to people about the opportunities available and about the employers who sponsor these awards, create employment and give young people these chances."
Award winners
Most Improved Electrical Apprentice (sponsored by Attric) – Ellis Howard.
Overall Electrical Apprentice (Sponsored by ABP) – Sam Chester.
Most Improved Mechanical Apprentice (sponsored by M&W Group) – Josh Hartley.
Overall Mechanical Apprentice (sponsored by ABP) – Dylan Hayward.
Most Improved Instrumentation Apprentice (sponsored by Howdens) – Isabelle Orton.
Overall Instrumentation Apprentice (sponsored by Attric) – Lewis Ward.
Most Improved Multi Skilled Apprentice (sponsored by Fenner Dunlop) – Harvey Marritt.
Overall Multi Skilled Apprentice (sponsored by Jacksons Bakery) – Natalie Oliver.
Most Improved Manufacturing Apprentice (sponsored by J Rotherham) – Jack Beney.
Overall Manufacturing Apprentice (sponsored by Bericap) – Brad Cross.
Overall Apprentice (sponsored by Yara) – Natalie Oliver.
Excellence in Health & Safety (sponsored BP Chemicals) – Matthew Nelson.
Award of Excellence (sponsored by the Institute of Engineering and Technology) – Jacob Mail.