Alert - Fake Chamber E-mail Warning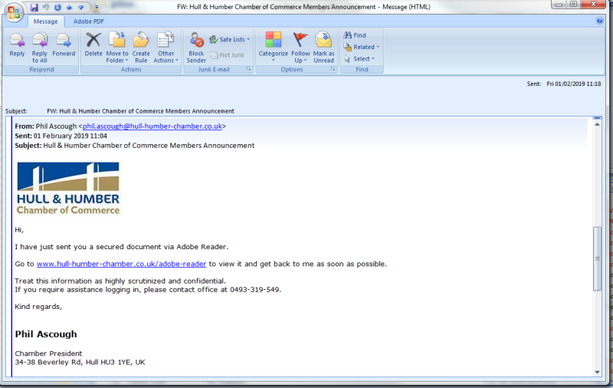 Please be alert for a fake e-mail claiming to be from former Chamber President Phil Ascough. The message attempts to lure recipients into opening a "secured document" from a link which at first glance appears to be the official Chamber website.
However the link does not lead to the Chamber website and should not be opened.
The apparent sender address is also fake and does not exist.
This e-mail has not originated from any Chamber system.
If you receive such an e-mail please delete it immediately.
Update: 01/02/2019 12:50
If you have clicked the link in the fake e-mail it will lead to a logon page asking for an e-mail address and password. In short this a a phishing e-mail attempting to gain access to other networks by luring victims into revealing logon details.
If you have entered credentials we recommend you immediately change password and monitor your account for any suspicious activity.