Rail Electrification to Hull - Chamber boss 'hopeful' after London meeting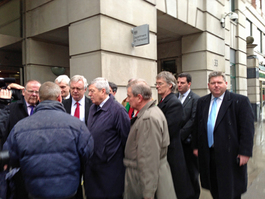 Chief Executive Ian Kelly attends meeting with Transport Secretary Patrick McLoughlin
HULL & Humber Chamber Chief Executive Ian Kelly attended today's meeting with the Secretary of State for Transport, Patrick McLoughlin as part of a cross-Party, key stakeholder delegation to lobby for the electrification of the rail line to Hull.
In the run-up to Hull's City of Culture status in 2017, the cross-Party delegation sought a commitment from the Government to include electrification in its next set of public plans to coincide with the Chancellor's Budget next month.
This would speed up the electrification process to ensure its completion prior to 2017 and to guarantee the best available rail links for the anticipated extra 12-million visitors to Hull during 2017 and beyond.
Ian Kelly said: "I was watching the civil servants as well as listening to the Secretary of State and just got the sense that they might just be tasked to go away and deliver this, we must wait and see, but I am hopeful".