Security system ensures thief faces the music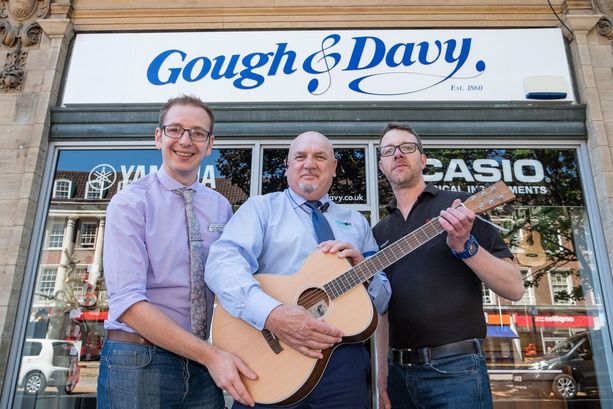 HUMBERSIDE'S Police and Crime Commissioner (PCC) confirmed a new approach to policing in Hull city centre after meeting with key figures from the HullBID Board to discuss the high-profile Operation Ignition project.
Keith Hunter said he wanted to reassure businesses that the initiative was not a one-off but was the start of a new style which will see more officers on the beat in key areas and a tougher stance taken against offenders.
The PCC met HullBID Chair Jim Harris, previous Chair Victoria Jackson MBE, Executive Director Kathryn Shillito and Chief Executive Ian Kelly.
He said: "The meeting enabled me to explain in detail what Operation Ignition was about. It was a signal that something different was happening but it should not be seen as a temporary measure.
"It reflects the change in practice which I have been keen to promote and which the Chief Constable recognised was required after he visited the City Centre. It's about making a statement to reclaim the public space for law-abiding members of the public and making people feel safe as they walk in an area which is the shop window for Hull and the whole region."
Keith said tighter control of finances had enabled the force to take a more preventative approach to policing, with more officers on the beat in areas where greater visibility is required.
He said: "There's no criticism of anybody – it was just a case of when the resources would be available to move into that kind of policing. As long as that kind of public space policing continues there will be a cumulative effect and it will get better and better.
"It doesn't mean there will be the same number of police there all the time, but they will be there when that approach is needed. There will be firm action against those who are causing discomfort for others in the area.
"If businesses see that we are listening and responding they are much more likely to cooperate in terms of working together. The police have to take that first step – not just ask for something but give something as well. Then when we come along and tell businesses what they can do to improve things we expect them to listen to us."
Kathryn added: "The problems in the city centre are no worse than in other towns and cities but they are a concern and after Operation Ignition we started to see reports of arrests and dispersal orders.
"As a BID we have been monitoring the number of patrols and we have seen greater numbers of police and more collaboration with the support officers, and we were delighted to learn that this is a long-term project and there will be a bigger police presence in the city centre.
"We also took the opportunity at the meeting to reaffirm the strong relationship that HullBID has with the police on the streets and at the highest level. We have worked with Keith since he was a superintendent in the city centre and we know he shares our concerns and is doing all he can to address them."
Kathryn said: "£10,000 gives us a fair amount of money to go out and buy some equipment. The system has been in operation since the BID started in 2006 and we know it makes a big difference to safety and security in the city centre. But we do want to upgrade the system by replacing analogue with digital and this money will enable us to start that work. We will buy as many new handsets as the money will allow. That should enable us to improve the equipment which we distribute to members of our security forum and we will continue to bid for funding to update the rest of the system".
A prime example of how effective the security system is left a sneak thief singing the blues after he grabbed a guitar and was hunted down by an alert business owner and HullBID's security systems .
Within half an hour of snatching the guitar from Gough and Davy in Paragon Street the thief was under arrest and the instrument had been returned. After a quick appearance in court the next day, the man with little musical knowledge but a long criminal record was behind bars.
Al Kilvington, owner of Gough and Davy, told how the man ran off with the guitar late one morning. But the hapless villain only took it as far as Stuf, the shop in South Street which buys, sells and repairs gadgets and electrical equipment.
Paul Green, co-founder of Stuff, said he smelled something fishy – and alcohol!
He said: "We usually have a good look at people. He was small and he smelled of alcohol. He put the guitar on the counter and said he wanted to sell it. It still had the Gough and Davy price tag on and a description card tucked into the strings. It didn't need Sherlock Holmes to detect that something wasn't right."
Paul put out a message on the HullBID radio system and Mark Andrews, HullBID's Senior Support Officer picked up the thief's trail and alerted Civic1, who tracked him on CCTV.
Mark took the guitar back to Gough and Davy. Meanwhile police arrested the man, who was also wanted for other offences, and he was identified with the help of the HullBID CCTV equipment at Gough and Davy.
Mark said: "As I followed the thief I could see he was trying to sell the guitar to passers-by! Safety and security in the city centre is a top priority for HullBID and it was great to see everything work so effectively."
Shaun Mackinder, sales manager at Gough and Davy, said: "The response by HullBID's support officers and the police was very quick and it was all down to the radio system. In that incident the system was vital and it demonstrated that help is just a radio call away so it's great news for businesses in the city centre that HullBID has secured funding to start upgrading the system."