Legal specialist's views on overhaul of medical negligence claims system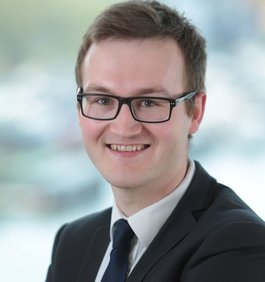 PEOPLE with life-changing injuries due to negligent medical treatment need compensation to 'try and get their lives back' and not 'just for the sake of it', says legal specialist Jonathan Baker (pictured right).
As a Government overhaul of the present system of compensation is considered that must be remembered, adds the Partner at Wilkin Chapman solicitors.
Jonathan has this year been re-accredited onto the Law Society's Clinical Negligence Scheme. In addition to the accreditation, the firm continues to be able to offer legal aid as a funding option in brain injuries to babies at birth.
Jonathan is a specialist in all areas of medical negligence and has represented a wide range of clients across the Humber region - resulting in awards running into millions for individual cases involving babies and adults.
His comments come after Health Minister Nadine Dorries is reported to have confirmed how a review of the whole medical negligence system is going 'at pace'. The report adds how it is intended to rid the system of 'outdated practice'. Areas under scrutiny include loss of earnings calculations, and the introduction of 'no-fault compensation'.
Jonathan fears a reform may see tariff-based or capped awards, irrespective of individual circumstances - opening the way for more claimants achieving lesser amounts.
"I am not suggesting that change is not worthwhile, but there must be a complete understanding of the current process and why compensation is awarded: to try and put right what the negligent treatment has caused to the individual," he said.
"If that is not appreciated then I am afraid people may no longer have the access to justice they need," warned Jonathan, who added how his team only take forward approximately 10 per cent of cases presented to them. This means they are screening out those unlikely to succeed and ultimately saving the NHS time and money. This may not happen if the proposed reform goes ahead.
He continued: "Maternity cases, for example, account for over half of the compensation paid out by negligent treatment. These claims typically run into millions of pounds, often because such cases have resulted in catastrophic consequences for those involved. Access to compensation when that has arisen due to substandard care must continue and must take account of the needs of those affected.
"It must be remembered too, that those awards are predominantly to cover long-term professional care with only a small percentage accounting for loss of earnings. But, when it comes to earning losses, why should a person, be it a parent or the injured party, not receive a payment based upon what their average earnings were or were likely to have been, if they are no longer able to work," questioned Jonathan.
"The whole point of compensation is to try to put the injured person, and in some cases their parents/carers, back in the position they would have been had negligence not occurred," he added.