Guarding against phishing attacks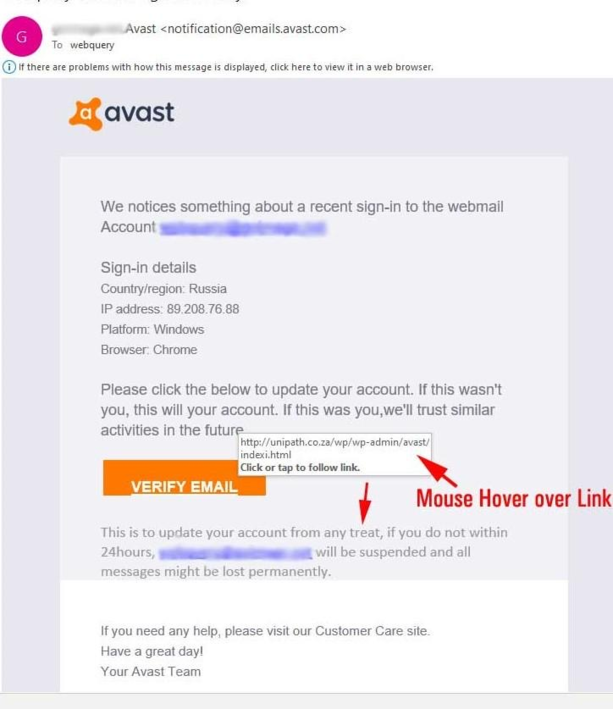 IN phishing attacks, scammers send fake emails attempting to trick the recipient into revealing sensitive information or install malicious software.
Using a reputable antivirus software is essential as part of your defence against this, but the best deterrent is education. Being informed could make the difference between being compromised or not.
Phishing emails can be incredibly convincing, often using publicly available information about you to make them appear genuine.
Tell-tale signs of phishing can include a generic salutation – "Dear Customer" for instance, although many now will show your full name. They will likely contain grammatical errors and spelling mistakes. They often allude to a security breach or a call to take urgent action in order to panic the recipient. Avoid clicking on links in emails unless you are 100% sure of their authenticity.
Hover over links to see the actual website you will be taken too, the domain part at the beginning is the most important bit to verify, but beware and read carefully as the scammers often use domains that look very similar to the genuine one, simply transposing two letters for instance. It's always best not to use links within emails, instead type the URL directly into your browser.
Ensure you and your staff browse the web or check emails using an account without administrator privileges, this will reduce the impact of successful phishing attacks. Report immediately if you think you think you've clicked a bad link.
If something doesn't feel right it often isn't, always err on the side of caution….
Before you enter any information on the internet always check the padlock symbol in the address bar to make sure that the certificate details are correct for the company you think you are accessing.
Stay Safe!
Richard Hirst richard@cybersafehull.com 07860 221222