Chief Economist tells Chamber the Bank of England has to be 'fleet of foot' over Brexit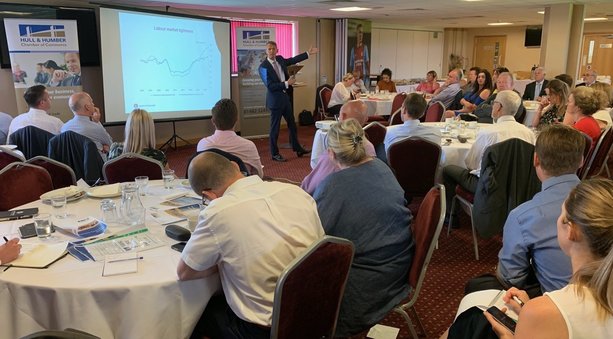 THE Bank of England's Chief Economist Andy Haldane received a warm welcome from a packed audience at Scunthorpe United's home at Glanford Park. He was introduced by the Director of the Chamber Acorn Fund, Craig Simpson, himself a former banker.
On the day Boris Johnson was confirmed as the new leader of the Conservative Party, Andy discussed the jobs market over the last decade, its future prospects, the outlook for the global economy - and Brexit.
He also touched on the challenges facing Scunthorpe's British Steel plant and the threat to jobs at the plant and in the supply chain, saying he hoped a buyer can be found and the future of thousands of jobs assured.
Andy told his packed audience that since 2012, 3.4-million new jobs have been created as part of the strongest economic recovery since the Second World War, but that in turn has created other problems by creating a tight jobs market which is driving up pay, and a skills shortage – well documented in the Humber.
UK employment is at its highest level for half a century (61.5%) and unemployment at its lowest at 3.8%, but he said people are wary of taking risks and moving jobs or locations to climb up the jobs ladder, as they have traditionally done.
The flexibility available to the self-employed, agency workers and those on zero-hours contracts can be welcome, but it can also lead to uncertainty, and even for those who are fully employed, pay levels sit below the levels they were at a decade ago as many people agreed to cuts in their pay and packages to keep their jobs during the financial crisis.
Today, he said, fewer people are moving jobs and those that are, are being much more cautious.
Gobally, Andy explained how a number of trade wars in recent years across the planet had got under the skin of businesses. Today, the balance of global risks has shifted to the downside, creating a headwind for UK trade abroad. Some central banks have eased monetary conditions to help trade.
In the UK, he said, we have seen a pick-up in the last two or three months as fears of Brexit subsided, but he noted there is no historical precedent to use to predict the effects of Brexit. The Bank has consulted 10,000 businesses to give their assessment of how Brexit will affect them. Businesses say a no deal scenario would cause trouble for some, while leaving with a deal would help others.
Andy was honest enough to admit that he has no idea if the figures are true, but he believes the risk of a no deal Brexit has gone up, and the markets now expect interest rates to be cut by the Bank, which had previously predicted a steady increase in interest rates.
Andy also said he didn't know what the Bank of England would do if the UK left without a deal on October 31. It might knock the growth of the economy and we might see inflation beginning to rise, but if there was a no deal scenario, the Bank's response would not be automatic, they would have to see what was happening before deciding how to react, because as things stand, monetary stimulous is still in the economy.
The man tipped by some to be the Banks next Governor when Mark Carney steps down, said the Bank's monetary policy needs to flexible and fleet of foot and the country needs to be producing stuff that other countries want to buy – and the emerging markets will account for half of global GDP in the coming years, and that figure will only rise as those markets will include millions of people.
The Director of the Chamber Acorn Fund, Craig Simpson, said: "It was good to see Andy Haldane visiting Scunthorpe and it highlights the importance the town and its British Steel plant is to the British economy.
"The Government spent £50-billion saving RBS and Lloyds during the financial crisis and billions more during an extended period of quantitative easing. We would like to see a fraction of that money being spent to save a British Steel industry which is important for the future of our economic policies and Industrial Strategy because if we don't make steel in this country it will cost us much more to import it from abroad and push up prices for our construction, defence and rail industries, among others.