Northern Lincolnshire Business Awards 2018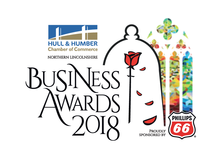 The Northern Lincolnshire Business Awards have grown to become the largest single annual business event on the south bank of the Humber and are attended by around 500 guests each year. In 2018 the Black Tie Gala Awards Presentation and Dinner will be held at Grimsby Auditorium on Friday 18 May. Headline sponsors and partners of the Awards in 2018 are Phillips 66.
The Awards launch for entries on Tuesday 16 January and can be entered by companies from throughout Northern Lincolnshire. The Awards are open to companies of every size, age and type and are as inclusive as possible They will be judged on 6 March and the three final nominees in each category announced. Final nominees videos are shown at the Dinner before the overall winner in each category is announced. As well as a glittering Awards ceremony, Drinks Reception and three course quality Dinner catered by Award winning chef Steve Bennett, guests will enjoy an After Dinner Show, based on 'Beauty and the Beast', performed by both professional West End performers and local students. The evening will be hosted by the One Show's Helen Fospero and local presenter Richard Askam.
Further information, Applications and Dinner Bookings are all via the dedicated website www.nlincsba.co.uk.
For queries on entering the Awards, sponsorship or general enquiries please contact Anne Tate at a.tate@hull-humber-chamber.co.uk
For queries on booking a table or submitting entry forms please contact Marilyn Waud at m.waud@hull-humber-chamber.co.uk
Follow the Awards through our dedicated website www.nlincsba.co.uk and Twitter feed @NlincsBA #NLBA18