FREE Zoom Speed Networking Sponsored by MODAL Training Centre
Date
June 25, 2021
Location
Online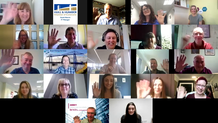 OUR Speed Networking events on Zoom are proving very popular and much quieter!!
As with our face-to-face events, each networker will get up to two minutes to make their pitch, and there will be no need for anyone to change places!
While you won't be able to swap business cards, each participant will receive a list of the attendees via email after the event, so you can follow up any potential leads.
The event will last around an hour, so zoom over to our website and get yourself booked on by clicking the below link.
Only one person per organisation please.
By signing on for this event, you agree that your details can be shared with other attendees who may make contact with you.
We ask that out of courtesy, attendees stay online until the end of the event.
Sponsored by

MODAL Training Centre provides business support via the GAIN project, funded by the European Regional Development Fund (ERDF). This enables eligible businesses to access fully funded specialist business advice and one-to-one consultancy support.
The specialist support provided has varied over the past 18 months which has included support with HR advice, reviewing processes and improving efficiency, financial advice, grant/funding information and business planning.
The pitch will be delivered by Lisa Paterson - Business Advisor within Ports, Logistics and Renewable.
Agenda
FREE Zoom Speed Networking
Category
Start Time
End Time
Price (ex. VAT)
Networking
10:30
11:30
Free
Book now
The deadline for bookings is June 24, 2021 15:45.