FREE Speed Networking on Zoom - Sponsored by Hull Bid
Date
January 28, 2021
Location
Online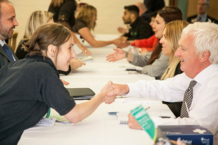 FOLLOWING our enforced break due to Coronavirus, and with face-to-face meetings off the agenda, we have resumed our popular Speed Networking events on Zoom.
As with our face-to-face events, each networker will get up to two minutes to make their pitch, but we will be using break-out rooms on Zoom for our "face-to-face" meetings – so there will be no need for anyone to change places!
While you won't be able to swap business cards, each participant will receive a list of the attendees via email after the event, so you can follow up any potential leads.
The event will last around an hour, so zoom over to our website and get yourself booked on by clicking the below link.
Only one person per organisation please.
By signing on for this event, you agree that your details can be shared with other attendees who may make contact with you.
We ask that out of courtesy, attendees stay online until the end of the event.
Kindly sponsored by

If you would like to sponsor the next speed networking event in February, please email Janice - j.harrison@hull-humber-chamber.co.uk
Agenda
FREE Zoom Speed Networking
Join us for a FREE Zoom Speed Networking
Category
Start Time
End Time
Price (ex. VAT)
Networking
10:30
11:30
Free
Book now
The deadline for bookings is January 27, 2021 13:25.